Scinus wins PRIX GALIEN medtech innovation AWARD.
At the 28th presentation of the Prix Galien Nederland Awards 2022, the Prix Galien MedTech Innovation Award was presented for the 4th time. Scinus Cell Expansion – a Demcon Investment company – received the MedTech Innovation Award from jury chairman Prof. Dr. Lisette van Gemert – Pijnen.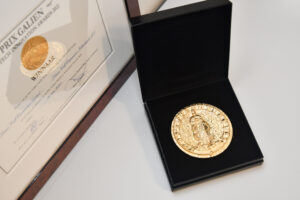 The MedTech Innovation Award rewards demonstrably valuable innovations in care for patients, caregivers and/or healthcare providers. Eligible for the Prix Galien MedTech Innovation Award are innovations in the field of medical equipment, diagnostics, eHealth solutions, robotics, home automation, wearables/wearable technology, (remote) monitoring, telemedicine, serious gaming, simulation, big data, digitization in healthcare and virtual & augmented reality.
From the jury report:
In recent years there have been enormous breakthroughs in stem cell therapy and regenerative medicine, aimed at treating diseases with a major social and economic impact such as diabetes, kidney failure, heart failure. Scinus Cell Expansion aims to make stem cell therapy and regenerative medicine more widely accessible. They have focused on an innovative approach by developing a closed bioreactor system that is capable of culturing clinically relevant amounts of cells with a relatively small amount of starting cells from the patient. The jury appreciates this technological and also social innovation so that more patients can benefit from effective and affordable cell-tissue therapy.
The closed bioreactor system also has the advantage of efficiency. There is less waste of expensive culture medium, less hands-on time and no complex, expensive cleanroom infrastructure needed, as there is no risk of contamination of the culture.
The Scinus system is tested through various scientific experiments. The jury appreciates the collaboration with clinical parties such as renowned academic hospitals in the Netherlands and abroad, and with innovative companies in the field of regenerative medicine. The jury expects the Scinus Cell Expansion System to be a scalable and innovative medical application that can make a difference in the coming years and that the system can contribute to improving healthcare by providing accessible and cost-effective care.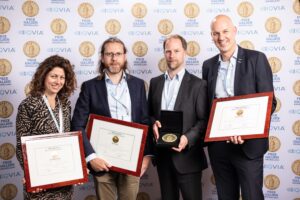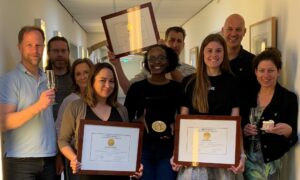 Candidates and nominees Prix Galien MedTech Innovation Award 2022
Also nominated in this category was ENATOM an anatomy atlas with the unique combination of 3D photorealistic anatomy and visualization technique from VIEMR in collaboration with the University Medical Center Groningen. Candidates were Curasoft from Curasoft and Power of Four concept – Krios G4 / Selectris X Inside
More information including full jury report: https://www.prixgalien.nl/medtech-award/winnaars/medtech-award-2022/
LinkedIn; Twitter: @ScinusCell; Instagram: scinus.cell.expansion
Scinus Cell Expansion is a Dutch company which develops and distributes bioreactor technology for stem cell cultivation.